At Alchemed we believe that time is best spent with patients rather than focussing on administration and as such have included a number of productivity enhancing features into the software. Review our medical practice management software features and

calculate how much time you could save

.
Productivity features that save you time and money:
Request A Demo
Sign Up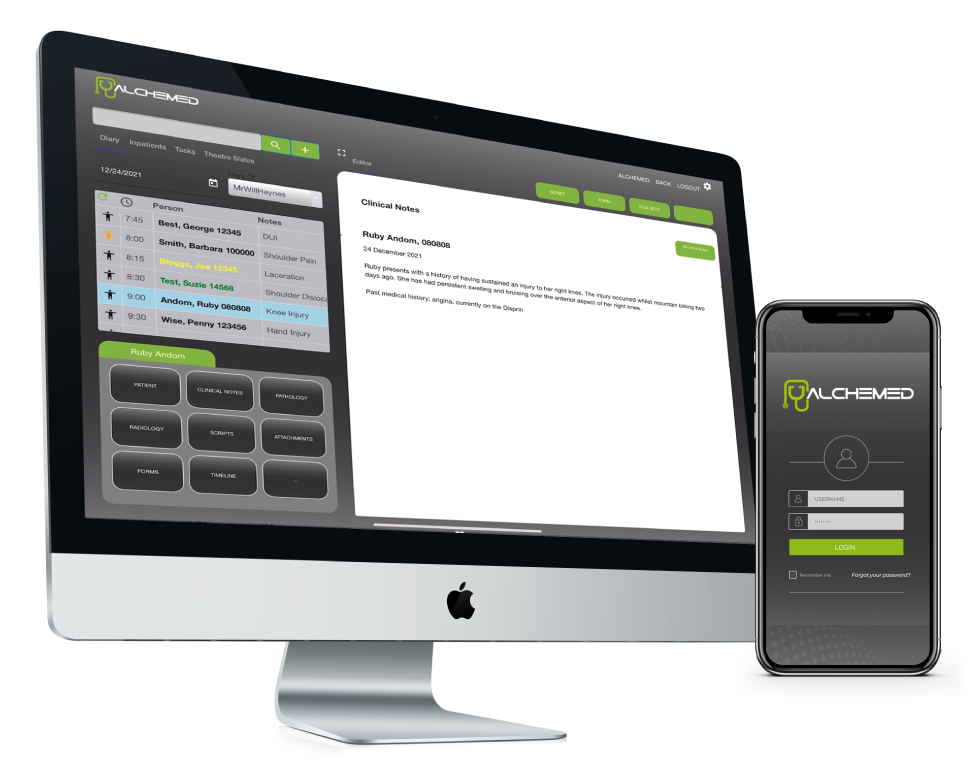 NEW FEATURE – AI Assisted Dictation
Whether on iOS, Android, Windows or Mac you can dictate your notes directly into Alchemed saving you time. Alchemed now offers an AI assistant and one of the features of this assistant is AI-assisted dictation. Unlike traditional dictation software, this feature uses advanced AI, making it far more accurate than other dictation methods. Also, with AI-assisted dictation the transcribed notes are automatically punctuated and there is no need to use commands like "comma" and "full stop". In a benchmarking exercise against another widely used dictation tool Alchemed's AI Assisted Dictation averaged 1 error per 3 minutes of dictation compared to 14 of the other system resulting in 13 more manual text corrections required after the dictation was completed. No need for third party dictation software, saving you money. Review our help video on AI Assisted Dictation.  
NEW FEATURE – AI Assisted Digitisation of Handwritten Notes
For those clinicians who prefer making handwritten notes, converting hand written clinical notes into a digital format is as simple as a drag and drop into Alchemed. To digitise handwritten notes, open the handwritten notes and locate the patient, then from the AI assistant select upload and transcribe handwritten notes. Browse and select the file of your scan or photo of the handwritten notes and transcription will begin. After a few moments, a digitised version will appear in your clinical notes. It couldn't be easier. Please remember to proof read, while the quality of the AI transcription is excellent it can't be guaranteed to be 100% accurate. See how it works on our  video. or from within the software from Modules/Learning centre.
Assisted mode
You can select assisted mode which is great when you starting out with the product or are working in a module you have not used before. In this mode you will be guided through the process of using the product. In this mode you will see little question mark icons next to various elements. Hover over these for an explanation of what the item does or how to use them. You can turn this off at any time.
Dictation
Whether on iOS, Android, Windows or Mac you can dictate your notes directly into Alchemed saving you time. No need for third party dictation software, saving you money. Review our help video Capturing clinical notes.
Image Editor
The Alchemed Image Editor allows you to edit an image like an x-ray or body chart, by adding text to the image or by writing or drawing directly onto the image to create relevant notes or annotations.
The image editor also allows you to crop the image to keep only the relevant portion which reduces storage needs and improves performance. Review our help video explaining the image editor.
Shortcut Keys
You can assign Shortcut keys to insert common paragraphs of text that you find yourself consistently typing. For example, a clinician may always explain risks of a procedure to a patient in the same way. This can be assigned to a shortcut key that when pressed will insert the text into the clinical notes.
Digital and accessible anywhere
Not using paper files saves storage as well as time needed to retrieve files. A clinician can also review and update records whenever most convenient, for them from any location.
Dashboards
Present all of your upcoming patients with incomplete information and outstanding tasks in one view. 
Creating Patient
Instead of having to capture all of a patient's details you simply capture their name and email address. The patient is emailed a link where they fill in all their own details online directly into Alchemed. If they have not done this when they arrive they can be asked to completed it using a QR code. Review our help video Using patient QR codes in your rooms..
Patient Practice Contract Sign and Scan
Alchemed automates the sending of contracts to patients for them to sign digitally ensuring that they arrive for their appointment with no outstanding paperwork to be done.
Adding X-Rays and imaging
Take screen shots of X-Rays and other images from your Imaging portals and paste these directly into or if preferred easily upload image files if preferred. Review our help video Adding Files to Patient in Alchemed.
Adding Pathology Reports
Alchemed is integrated with Ampath and soon to be with Lancet covering 90% of the South Africa market. Pathology reports seamlessly are loaded into Alchemed into patient files without any human interaction.
Pre Built Templates
Templates in Alchemed allow you to create letters (and other documents) from templates or select part of a patient's clinical notes and send these straight into a letter template for you to edit and send securely.
Customisable workflows

 
At Alchemed we believe this is our software's X factor. Using Alchemed's customisable dynamic workflow design and its sophisticated Forms system, Alchemed can be customised and refined to work seamlessly for any medical speciality. Even with customisation of workflows, Alchemed is able to capture and create valuable structured data acquired directly from patients as well as consultation details, operation notes and other events. In addition, Alchemed's dynamic workflow design facilitates active engagement among patients, treating doctors as well as other members of the treatment team throughout the lifecycle of a medical event. This collaborative approach serves to enhance patient care and streamline the management of medical events. Review our help video Alchemed forms and templates.
Review Patient Questionnaire before a Consultation Begins
Alchemed has a powerful form builder and library of forms that allow you to create your patient questionnaires digitally. These are then filled in by the patient online well in advance of consultation dramatically reducing the time needed for a consultation and also giving the clinician ample time to review patient information before a consultation begins.
Operation Notes from configured Form
In Alchemed you can configure operation booking and completion forms with defaults populated. These forms then generate your operation documents based on the selections you make.
Sharing Functionality
Sharing functionality allows practitioners to share patient information and instructions with other practitioners and patients, improving patient outcomes.
For patients – Once they have completed their initial information and consents, patients are invited to register on Alchemed with a password and if they choose, additional authentication via mobile phone. They can then securely be sent further personal information to complete and check, medical information, invoices, referral letters or instructions for other members of their treatment team. Using the functionality below they can then securely share certain information like referral letters and instructions securely via Alchemed with other members of their treatment team. 
For medical practitioners – Using email, invite other medical practitioners who form part of a patient's treatment team to register on the Alchemed platform. Once registered you can then share patient information, medical information and scans or instructions with other practitioners and securely receive feedback via the medical platform.
Alchemed Anaethesia – Pre Anaestetic Forms Functionality
Alchemed Anaesthesia was created to improve patient care by moving the first point of contact forward, allowing adequate time to address and concerns and reduce costs of unnecessary investigations.
While patients often meet their surgeons well in advance of planned operations, many times they will only meet their anaesthetist on the morning of the surgery.
This not only creates unnecessary anxiety for the patient, it may cause them to forget important aspects of their medical history and also leaves insufficient time for the anaesthetist to adequately prepare for surgery. Doing this in advance means patients are more likely to recall important details such as previous surgeries, allergies and medications which can affect anaesthesia.
This prevents patients either having to undergo surgery without being fully investigated, or the operation being delayed or cancelled because of outstanding information.
Alchemed's pre anaesthetic form allows the patient to compete key medical information at their own pace in a non-stressed environment (i.e. at home) after which it is shared with the anaesthetist days prior to the surgery as opposed to hours before the surgery . Early patient information allows for better surgical planning, reducing risk as well as better patient outcomes.
Using Alchemed Anaesthesia enables the anaesthetist to identify and red flags long before the day of surgery. This gives patients peace of mind knowing that their anaesthetist is well prepared on the day of surgery. See how it works.